Leavenworth and the Methow Valley

The beauty of Eastern Washington
Jewel of the Methow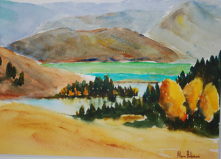 Patterson Lake, on the road to Sun Mountain Lodge, provides a spectacular and inviting oasis tucked into the surrounding parched hills.

Available at Confluence Gallery in Twisp, WA

---


Leavenworth and the Methow Valley

Unfinished Project-Plain WA

This old white boat caught my eye, peering out of the darkness of an old barn. It looks like it is ready to go to sea, but somehow ended up on a farm
11 x 14 framed
Original SOLD
(Giclee print available
)
---
Icicle Creek-Untamed Bridge Creek, Icicle Valley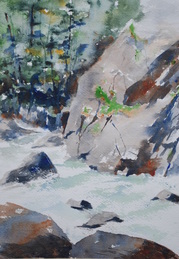 I have been drawn to the Icicle Valley near Leavenworth ever since hiking up to the Enchantment Lakes 40 years ago. Icicle Creek tumbles through the valley wild and untamed. The cool, fresh, pine-scented air
draws me in.
11 x 14 framed
Original

Sold

-(Giclee prints available
)
---
The Grotto Icicle Valley, Leavenworth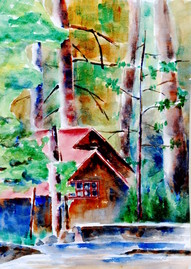 Nestled in the pines, the Grotto welcomes you in for a refreshment on a hot summer day. I love how, like a real grotto, this building looks as if it grew into the forest along with the surrounding trees
.
11 x 14 framed
---
Still Life

on Portage Bay and Lake Union

Through the Cut


Through the Cut

---

Still Life Under the Bridge*


---

Still Life with Barbecue*


---

Seattle, WA

Watercolor by Mara Bohman

Last fall my sister in-law ferried me around Portage Bay in her little boat. This image of the Mountlake Bridge, accented by the brilliant colors of fall, just had to be painted. The 'Cut' beckons me to travel on through to Lake Washington.

16 x 20" framed)

$190

Seattle, WA

I just love how these tiny houseboats are tucked in under the University Bridge. The contrast of their bright colors against the musty gray of the bridge supports, makes them almost glow.

11 x 14 framed

$120

Another glimpse of life under the University Bridge in Seattle, this little sailboat, barbecue and bottles of wine, wait for the lucky resident to return from work.

8 x 10 matted

$120
Northern Vancouver Island
A Stroll Through History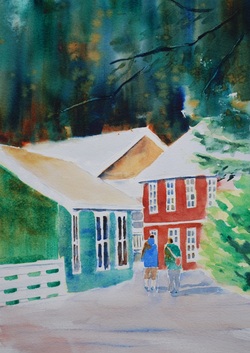 Telegraph Cove, BC
Watercolor by Mara Bohman
Established in 1912 as the island terminus of the telegraph line from Campbell River, Telegraph Cove is an enchanting historic village with most of the original buildings restored and maintained.
Built on stilts, it is one of the last boardwalk communities on Vancouver Island. You can still see some of the original telegraph wire as it was stretched from tree to tree to help connect this remote part of the island with the outside world.
11 x 14" framed)
Original

Sold

(giclee prints available)
---
Floating Cottage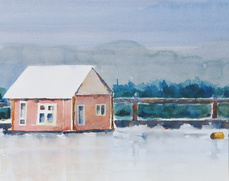 Floating Cottage
Beaver Cove, BC
Watercolor by Mara Bohman
This little floating cottage leaped out of the hills at me with the evening sun reflecting off of its shiny metal roof.
I am guessing it provides housing for some of the workers from the log sorting settlement at the end of the rail line, Beaver Cove. Located just across the bay from the quaint village of Telegraph Cove on the far north western coast of Vancouver Island, Beaver Cove is a working
settlement, steeped in history dating back
to 1917.
11 x 14" framed
$80
---
Aspen Dreams

-

Aspen Forest Trio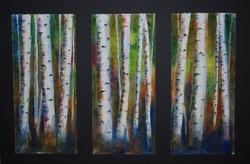 What more can I say.. I love Aspen trees. This series is inspired by fall trips to Eastern Washington including Icicle Valley on up to the Methow.
I chose black, but this trio could be mounted on any color background for a different effect.
29 x 35 " framed
Original-SOLD
---
Sunshine in the Skagit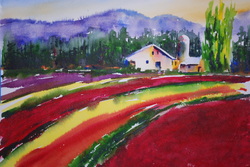 11 x 14 framed
Available through
---
Evening Glow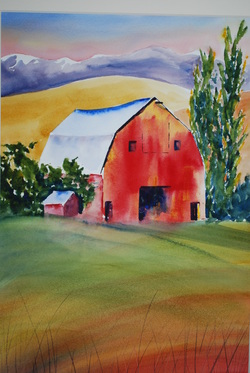 20 x 26 framed
Available at Sleeping Lady Merchantile
---
Historic Whidbey Island

Rural Life in the Pacific Northwest